Many of us in the real estate industry were pretty unprepared for COVID-19 and the mass disruption it has brought to the logistics particularly when buying and selling homes. With transaction volumes already dropping to record lows, understandably consumers' focus of buying their next home has shifted towards plain survival. At the time of writing this, real estate is in somewhat of a holding pattern, so here are some suggestions to help you survive and potentially thrive during this period…
1. First and most importantly – cut unnecessary costs and stop overpaying on property portals
It's time to get your list of costs out and break them down to 100% necessary or not. If you have an office, get the rent down (it is probably going to be empty for the next 4-6 weeks or more!) if you have any major technology tools or suppliers like your CRM, get the price down, we are all in this together so now is the time for reducing all your main costs, even your phone bill or cleaning bill, any money saved now will help.
Property portals globally are reporting traffic drops by up to 50% in March and transaction numbers during outbreaks like COVID-19 can expect a drop by 90%! The value the property portals are now providing is MUCH lower than before, so their pricing should reflect this. In many established markets, portals are quick to help and are actually waiving fees totally or significantly reducing them for the coming 1 to 3 months. Any portal that does not support their customers in the hard times, does not deserve you as a customer in the good times. It is time to either cancel those memberships or get a heavily discounted price for the next 3 to 6 months.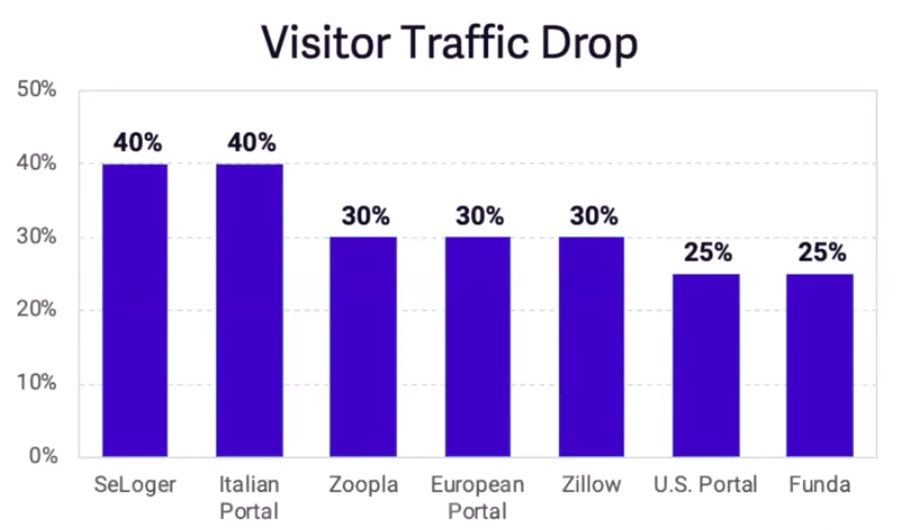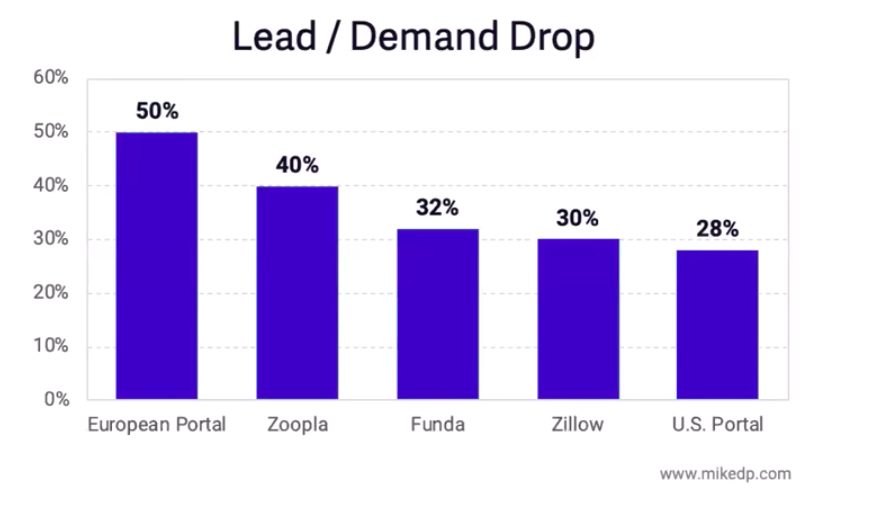 2. Your existing clients are your best channel
Some of the best companies and best deals have been struck during times of crisis or just coming out of it. This is especially true for home-owners and investors who need to move their cash around and dilute their most expensive assets or highly leverage assets. This is a time cash-rich investors flock in and snap up a bargain and take advantage of the difficult and challenging times others may be facing.
Your existing clients likely know friends members or family or business contacts who have the same mindset, it is time to ask for that warm referral and really service them to your full ability. When you have less leads coming in, you have more time to deal with your serious ones.
Remember, all of your sellers were also buyers at one point, some of them are investors that have deep experience and local knowledge. While rents and overall returns may drop with the travel restrictions, the right properties at the right prices will offer healthy and attractive returns and good investors know that.
Do not forget to tap into your existing agent network and keep them engaged too, different agents have relationships with different buyers and sellers, so there is more of an opportunity to work together and an openness to collaborate than before.
Keep your active buyers' list updated with regular emails and communication, a quick WhatsApp message with a link or a call to tell them about a new deal that just came onto the market. Even if your clients are not quite ready to purchase today keep them engaged and try your best to demonstrate real value and support. When they are ready, you will be the first on the list.
3. Find SERIOUS sellers
Property sellers are easy to find, serious sellers that will accept today or tomorrow's price are not as easy. Finding those sellers and providing consultation and guidance through this difficult time will allow them to confide in you about their personal situation.
How do you know if a seller is serious?
From having honest conversations and truly demonstrating your value to them by showing them your ability to source an active home buyer, negotiate a deal and navigate the property transaction in today's more challenging market. Many sellers who are serious may not feel comfortable telling you, the quickest way to know, is to just ask them directly 'WHY they are selling in today's market?' or 'How urgent do we need to complete this sale for you?' Then you will know what price and tactic and how serious this seller really is.
How to find good sellers?
Beyond the traditional door-knocking, leaflet flyers or personal recommendations there are few non-traditional methods to find new sellers.
Many owners will be feeling the impact of the world-wide travel restrictions and some will not be breaking even on their mortgage payments for their investment property and their holiday home with a huge and instant drop in rental income.
Check out the online holiday home rental sites and send some inquiries or call owners through them and see if they are interested in selling or alternatively go to for-sale-by-owner sites and call through the list, they may need an agent's help more now than ever.
Get adverts online, using social media in your local market, inviting sellers to contact you, and inform them on the ad that you have serious and eager buyers. If you remain active during this time – the serious sellers will find you.
4. Implement all those brilliant ideas – you now have the time!
Time to make a plan, time to prepare. This is the perfect opportunity to analyze your business, identify your own strengths and weaknesses, work out where you need to change and improve, which clients you made money with and which ones you were unable to convert. Now you have more time to implement all those new ideas and position yourself to execute and get ahead of your sleepy competition.
Look at your leads, their sources, your conversions – where are you losing out, which platforms or mediums are working, which ones could work much better. Is your Facebook strategy working or can it be tweaked? Do you need to open up and start servicing a wider location? Or new types of property? Is there going to be a demand for people looking for smaller houses after the crisis to save their cash? What are the next buying trends and how to get ahead of them?
Are you fully prepared for this if social distancing needs to continue through the entire 2020 and 2021?

5. Technology is taking over real estate
Technology really has changed the real estate industry and COVID-19 seems to be a major catalyst. A huge number of tools and communication software allows for seamless communication from people all over the world and timezones.
With limited viewings, canceled open-house or large gatherings, all businesses are using different ways to engage their audience during and after the pandemic has stopped.
Virtual tours, there are forays of existing and new software that allow an online walk-thru (tour) of the property either using a 360 tour or the broker can physically walk around the property while buyers sit in the comfort of their home.
Online special offers and promotions with deep discounts – time to get those prices updated! Many platforms like FazWaz.com in Thailand allow buyers to take full control and make serious offers that go directly to the property owners inboxes.
Content – update your pictures, video, write-up – anything extra to make that property stand-out on their websites, portals or Facebook ads, pictures taken from an iPhone just do not cut it in today's competitive market.
Forecasted rental returns – using online software and tools you can easily calculate the expected returns on a property with lower occupancy and what the return on investment (ROI) will be. These are more difficult but with logic and looking at past figures with a reduced number as easy to get an approximate figure and should be adjusted depending on the time of lockdown in your market.
It's time to adapt, open your mind to a new world and help your clients adjust to buying and selling in a post-COVID-19 world.