Chiang Mai, in many ways, defies description. It's one of those places in the world that you have to experience for yourself to get a feel of its unique character. Set in the mountainous north of Thailand, it's a city so rich in historical beauty that as you wander around some of its major attractions, you may feel as if you've entered some ornate fantasy world. Even the walls of its Old Town, still standing and a bit warped with time, all add to this 'fantasy' feeling.

But this is just the beginning. For those who are feeling adventurous and wish to travel out of the city, there are nearby sites of genuine uniqueness and incredible beauty: Thailand's tallest mountain, national parks, stunning temples, and some interesting local tribes such as the Karen people and the Hmong.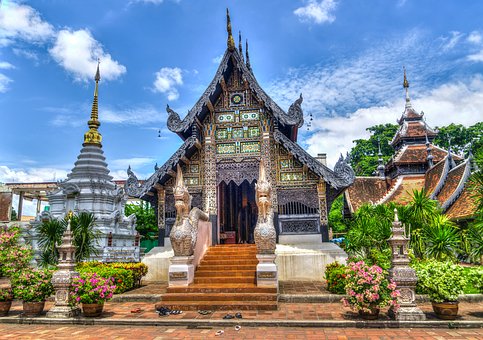 Chiang Mai Old Town
With narrow lantern-lit streets walled-in with temples, colorful old shops, and other historical buildings, the Old Town is small and easy to get around. The walls and the moat of the Old Town are worth having a look at too, but the highlights are the temples: Wat Chedi Luang, Wat Phra Singh, and Wat Phan Tao.

The Mountain of Doi Suthep and its Famous Temple
Reached via steps lined with dragons, Wat Phra That Doi Suthep is a gleaming beacon of gold that sits on a mountain top above the city. It remains significant and holy in Thai culture and is frequently visited by foreigners and locals.

Chiang Dao Cave
The famous caves stretch far within the mountains, but only a small portion is open to the public. Two of the caves have had electric lighting installed, but some remain in total darkness. For these, torches and guides are a must. Exploring these caves you'll discover incredible rock formations and underground Buddhist shrines.
Doi Inthanon, Thailand's Highest Mountain
Words sometimes fail to do the view justice. Sunsets and morning dawns here are particularly beautiful. Peaking at 2,565 meters above sea level, Doi Inthanon remains the country's tallest mountain but is also a national park. For those with the energy, it's a landscape worth following the trails and passing the waterfalls.

Wiang Kum Kam
Traveling by the Ping River some 5 kilometers from Chiang Mai, Wiang Kum Kam appears as a ruined city adorned with carved elephants, dragons and other Buddhist sculptures. Horse-drawn carriages are a popular means of transport here.
A Retirement Home for Elephants
Having spent their lives in logging or giving tourists rides, the Elephant Jungle Sanctuary of Chiang Mai attempts to provide 'retired' elephants with a natural environment. However, visitors are encouraged to enjoy the elephant's retirement with them, for although riding the animals is strictly forbidden, bathing them remains a popular activity for both elephants and people.

Night Safari
Stroking a tiger cub is probably not something that you do every day, but some visitors to Chiang Mai do get to experience it on the Night Safari. Here you can also feed certain wild animals, as you travel through the three zones: Predator Prowl, Jaguar Trail and Savanna Safari. The journey is taken either by foot or by open tram.

Kite Surfing, Waterfalls and The Mekong River and Kayaking Through Jungle
With all of its history and cultural wonders, clearly, Chiang Mai offers the visitor some unique experiences. But for those of an energetic nature, there are many water sport activities available at the Chiang Mai water park. Then there's the chance to walk on the Bua Tong 'sticky' Waterfall, or if you would prefer, boat trips on the Mekong River or even kayaking through the jungle.