Pattaya and its nearby surroundings have a wealth of gorgeous temples, interesting attractions and some genuinely peaceful places to visit, along with all of that famous nightlife.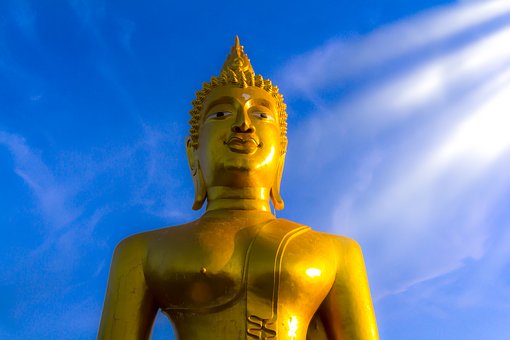 Buddhist Cultural Sites and Beautiful Buildings
 
Wat Phra Khao Yai, or the Big Buddha Hill
Smiling, golden above the city, the Buddha has a wonderful view.  Reach the top upon stairs lined with seven-headed dragons. Here you will also find a temple frequented daily by Buddhist monks.
Sanctuary of Truth
amazingly, this teak architectural wonder is not a Buddhist temple: it's actually a building of self-reflection.  Irrespective of that, internally and externally, the Sanctuary of Truth is truly staggering: the carvings and the statues will genuinely astound you.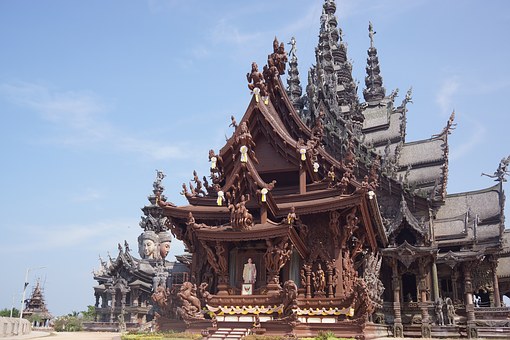 Anek Kusala Sala
A Buddhist and Taoist museum based on the friendship between Thailand and China, hundreds of statues wait to greet you here, all carved with genuine character.

Khao Phra Tamnak
another smiling, golden Buddha sitting above the city with a beautiful view.
Interesting Places
Art Paradise.  (A Concept of Genius)
Ensure you can take photos of yourself and to appear that you are participating within the artistic pictures on display, this gallery always proves to be a great day out for all of the family.
Ripley's Believe it or Not Museum
A Jaguar car that is also a boat?  The museum is fun, interesting and full of surprises.  It also offers the opportunity to experience Tussaud's waxworks and a 4D Theatre.

Pattaya Elephant Jungle Sanctuary
This is a great place to meet these wonderful animals and perhaps help give them a helping scrub as they bathe.
Nong Nooch Tropical Botanical Garden 
A peaceful retreat of well-kept horticulture, even if you are not interested in flowers, you might be surprised at what you find here.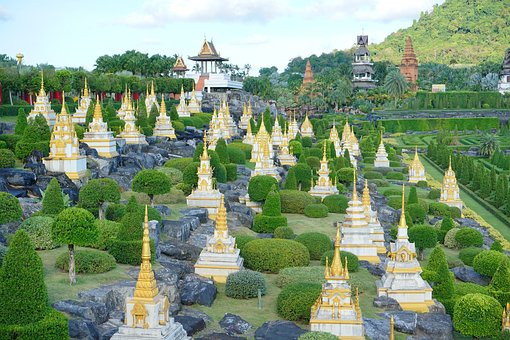 Mini Siam, Mini Europe
A miniature model replica of Thailand and Europe, all situated within pleasant gardens.

Activities, Boat Trips, and Shopping

Pattaya Park (Water Park) and Tower
If you love water parks, Pattaya Park has the usual enjoyable and exhilarating water slides, but also the Pattaya Park Tower.  At the top, there is a revolving restaurant overlooking the city.
Boat Trip to Ko Larn
The island of Ko Larn, blessed with beautiful beaches, lies just seven kilometers from Pattaya.  It's easily accessible by frequently-running boats from the city, but if you would like to stay overnight, you should consider booking ahead before you travel.
Shopping at Central Festival
If you are in the mood for shopping, Central Festival offers a plethora of designer brands, restaurants, cinema, and a bowling alley.

The Famous Nightlife of Pattaya
Tiffany's Cabaret
Once truly on the edge, the performances these days have become slightly more tuned-in to family viewing.  Tiffany's is an extravagant cabaret that is performed in front of two thousand people every night. Ladyboys and ladies, all in luxurious costumes, all appear beautiful at Tiffany's. 

Walking Street
A pedestrian zone of go-go, nightclubs, restaurants, and outlandish revelry, Walking Street remains the most hedonistic 500 meters of street life in the whole country.
Quieter Seaside Retreats

Ban Amphur
Pattaya is lined with beaches, but near to the city, there are perhaps quieter seaside options.  Ban Amphur, with great seafood restaurants and relaxing beach, is one such place.

Nakula
A fishing village popular with locals, Nakula is a perfect place to dine out on some wonderful seafood.

With all of this on offer, clearly, there is a lot more to Pattaya than some would imagine.