According to the news, the Thai government is considering the new real estate measure to temporary amendments to laws and regulations to encourage foreigners' freehold and leasehold, which will be more convenient expecting to revive the economy through the measures approach with 3 main areas, which are:
Expand the proportion of freehold ownership to foreign buyers from 49% to 70-80%.
Allow foreigners to buy a house and land that is worth over 10-15 million baht.
Extend the leasehold duration from original 30-year ownership and 30-year renewal to 50-year ownership and 40-year renewal.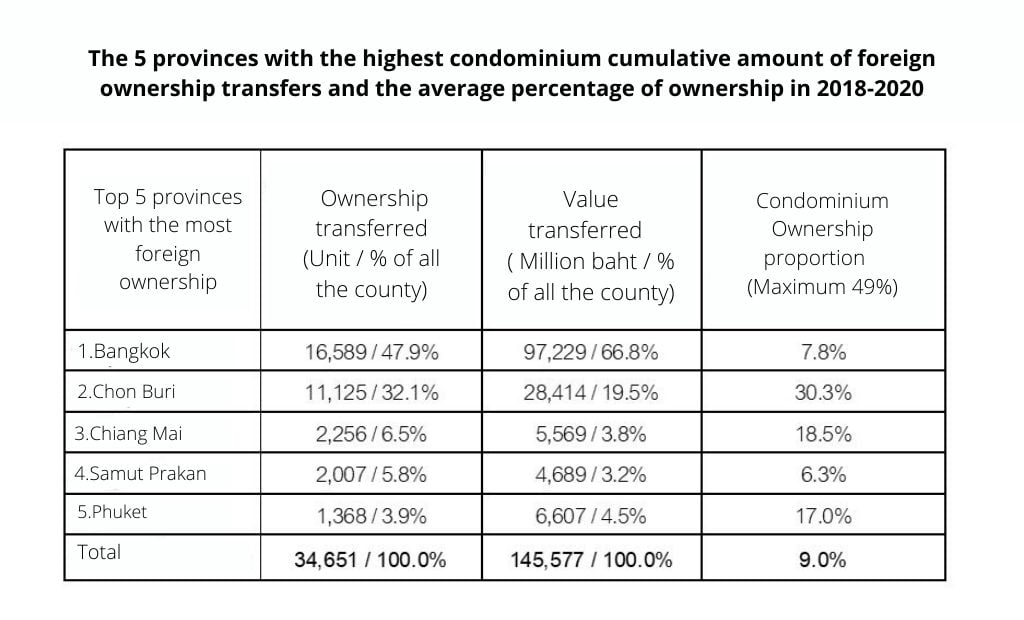 On the other hand, according to the Real Estate Information Center (REIC), the government real estate database provides summarized information on foreign real estate trading (Freehold). The information indicated that foreigners' transfer of condominium ownership during 2018-2020 had accumulated approximately 34,651 units worth 145,577 million baths, on average as 11,550 units or worth 48,526 million baths per year.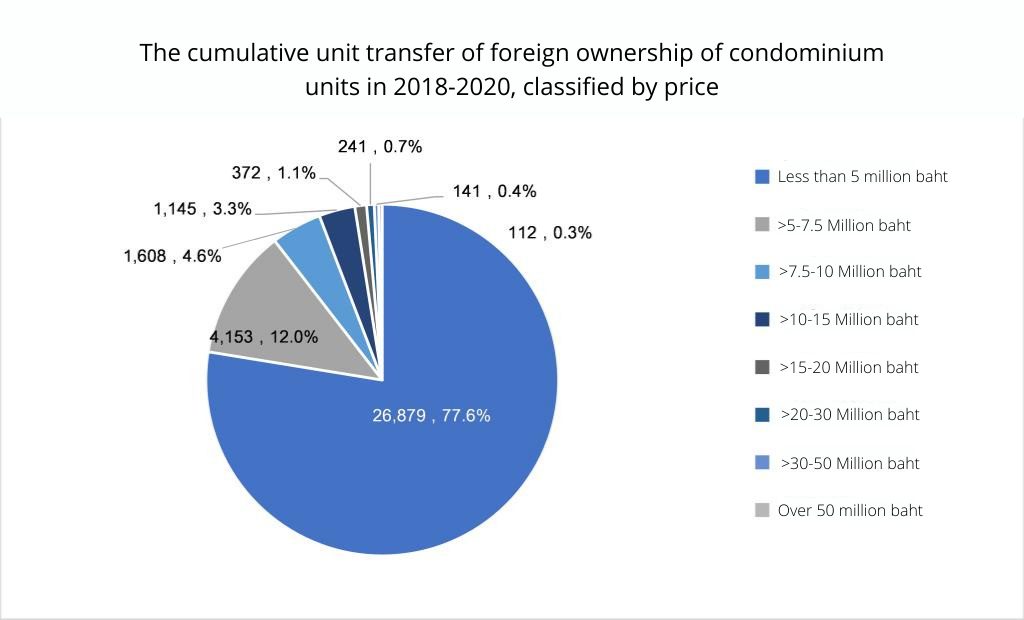 However, most foreign buyers (77.6%) own condominium units under 5 million baht but had only 7.7% of ownership proportion from the overall transfer. Meanwhile, the rest, 22.4%, purchase the unit priced over 5 million baht but have a higher percentage of the ownership of the condominium units, with approximately 20.0%. According to information, the overall proportion of foreign buyers is still below 49%. Besides, it was also found that foreigners were only interested in buying condominiums in certain areas, which mostly are regional centers, big cities, and tourist cities, such as Bangkok, Chon Buri, Chiang Mai, Samut Prakan, and Phuket. Therefore, the ownership proportion prescribed by the law is not practical in some areas. Besides, most of the condominiums brought by foreigners are lower than 5 million baht, which is equal to the purchasing power of Thai buyers.
According to the mentioned analyzed information, the government may expand the ownership proportion of condominium units for foreigners only in certain areas (as mentioned above). Also, it may be encouraged to increase the proportion of ownership only for condominiums with a price of over 5 million baht to prevent the condominium units' price less than 5 million baht from being bought too much by foreigners. Although the freehold ownership of foreign buyers is more than 49%, the major voting rights in the condominium juristic person as the co-owners may still remain to Thais.                      
On the other hand, there is still no confirmed information on the measures to allow foreigners to buy and own a house and land, due to the law still greatly restricts the rights of foreigners. However, it is assumed that if Thailand approves to loosen this restriction, the government will decide based on the information of Thai buyers' majority demand and purchasing power, which about 90% of them buy properties over 15 million baht. As a result, there is a possibility that the government may assign foreigners to buy only houses with land worth at least 15 million baht to prevent the impact to Thais from a dramatically increasing price of the property. Meanwhile, the voting right of foreigners in the housing juristic person still remains at 49% to sustain balance with Thai buyers.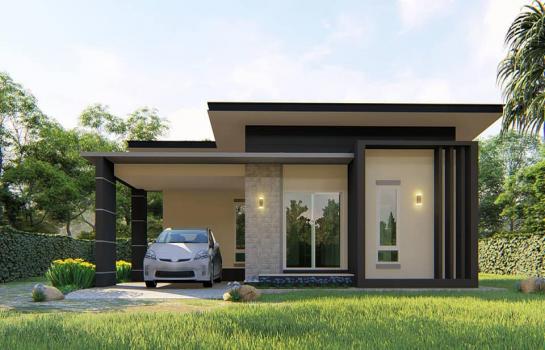 From 2018 – 2020, foreign tenants signed long-term leasehold agreements of 1,483 units, valued at 5,390 million baht (on average 494 units, or 1,797 million baht per year). This proportion is divided into 1,280 condominium units or 4,503 million baht (427 units or 1,501 million baht per year), and 203 units of houses and lands, or 888 million baht ( on average 68 units, or 296 million baht per year). According to this statistic information, the leasehold market for long-term living was considered small. The majority of rental properties (93.4%) are in tourist cities, namely 78.8% in Phuket, 10.3% in Chonburi, and 6.3% in Chiang Mai. When considering the nationalities of main foreign tenants, it was found that leasehold properties were popular among Russian (43.2%) and Chinese (23.5%), respectively. Furthermore, they are likely to prefer condominium units to horizontal properties. 
The reason that makes the leasehold market not well-responsive is because of the lack of confidentiality in renewing the contract, which may be uncertain in the price increasing or changing the rental conditions. As a result, there is a high possibility that extending the leasehold duration could be approved in order to increase confidence in the leasehold market and attract foreign investment to Thailand. Furthermore, if foreigners can renew a 90-year leasehold for 90 years twice instead of 3, it can reduce the risk by approximately 30%.
From the above information, the government may consider using these measures only in some areas, especially industrial investment promotion areas, tourism business, and commerce centers such as Bangkok, EEC, Chiang Mai, and Phuket, etc. However, if these measures are approved, they will benefit the economic expansion and the real estate sector. Also, the measures are expected to attract new buyers from foreign countries. Furthermore, the measures may be efficient for recovering the economy, especially the Thai real estate market, after the impact of the Covid-19. Although the measures will not have a tangible positive impact immediately, they should affect entrepreneurs' sentiment and business planning.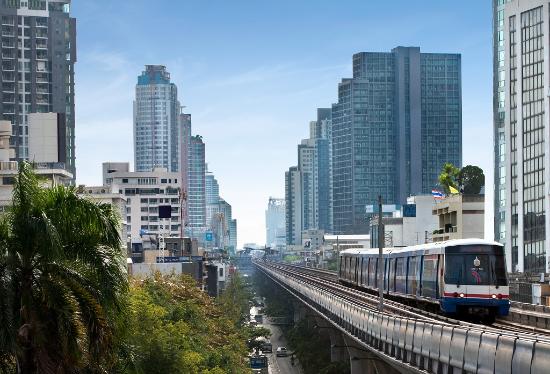 However, there is still a high demand from Thais in real estate at present. Moreover, the measures could be disadvantageous to Thais. Therefore, the government has to consider the measures exhaustively to meet the appropriate point. Furthermore, implementing these measures shall be clear in terms and conditions to be amended regarding relevant laws, regulations, and Thai people's rights, including a clear timeline for action.
(*The content is only a prediction analyzed from the REIC information. However, the measures are still waiting for approval from the Cabinet*).