Bibury Homes promises new heights of comfort in the heart of Thailand's most tranquil beach town. The Bibury Property Co., Ltd. is one of Hua Hin's most well-established developers, assuring to transform your dream into reality,  and are doing so by launching Bibury Homes.
Set in a picturesque landscape only 10 minutes away from Hua Hin city center, residents of Bibury Homes will be charmed by serene mountain ranges, sparkling rivers, and lush pineapple fields that surround their 29 modern-designed villas in a gated community. Hua Hin is a favorite getaway for locals and tourists alike; family-friendly and relaxed. Beaches, historical sites, award-winning golf courses, shopping complexes all encompass Bibury Homes. Residents are invited to meet a project with a great location, quality materials, customizable design, and large plots ranging from 550 to 820 sq.m.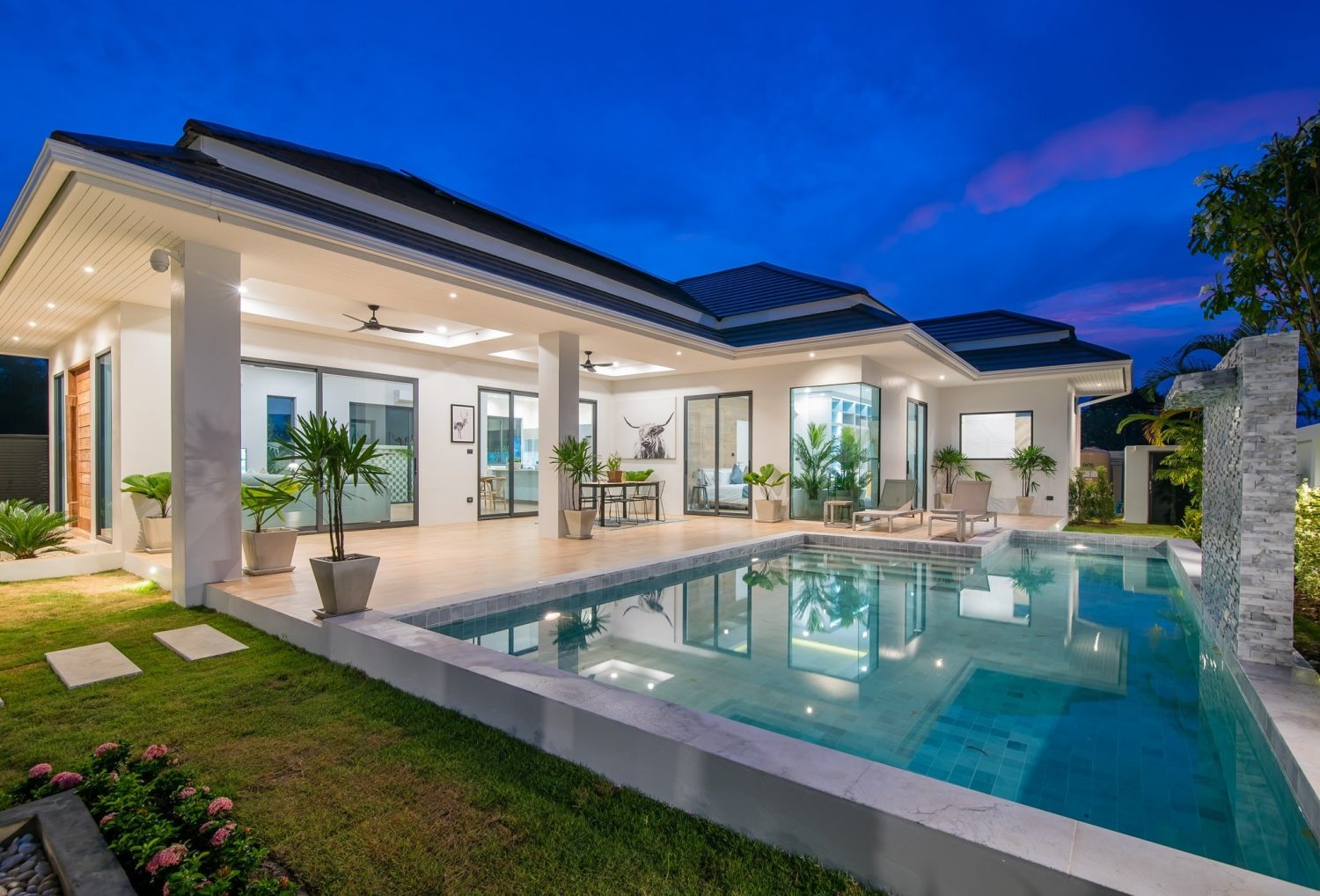 Price
The key selling point of this property is certainly its price, which stands 20% lower when compared to similar projects in the area and is offered exclusively by FazWaz. To offer an in-depth comparison analysis, the average total land size in Hua Hin is 464 sq.m. and Bibury Homes offers an average of 550 sq.m. or 16% larger in size. Leading onto price per square meter, the average project in the same area is priced at THB42,420 per sq.m. and Bibury Homes is at a competitive THB35,000 per sq.m.
Location
Bibury Homes is situated only 10 minutes away from Hua Hin's city center, therefore, it offers the privacy of a quiet beach townhome and the conveniences of city living. 
For all the shopaholics out there, they don't need to worry as there are BLUPORT Hua Hin Resort Mall, Market Village Hua Hin, and Night Markets where residents will find a nice selection of quality shops and restaurants.
Taking a dive into Thai culture is also of importance, whether it is to learn more about its history, or to simply take a moment away from modern life. Notable landmarks of Hua Hin include Wat Khao Takiab, Wat Khao Sanam Chai, and Cave Dao, just to name a few. In these temples, residents can find peace and quiet when needed.
Without a doubt, Hua Hin is one of the districts most known for its activities. Golf courses like Banyan Golf Club Hua Hin and Black Mountain Golf Course are remarkable for those who enjoy the sport, while families can indulge in water activities at Vana Nava Water Jungle.
Villa Types 
Bibury Homes offers four different types of villas to choose from: Palm, Pine, Oak, and Teak – all differentiated by their layouts. What they do have in common is a 3-bedroom layout with expansive terraces and large scale swimming pools.
One of our popular picks is Villa Palm (Total Usable Space: 229 sq.m. )
With a total indoor space of 154.40 sq.m., welcoming residents at Villa Palm is a small terrace where the grand entree to the villa is located. The moment the door opens, residents will find the common area which includes the living room, dining room, and the kitchen at the back – all divided in the depths of the room.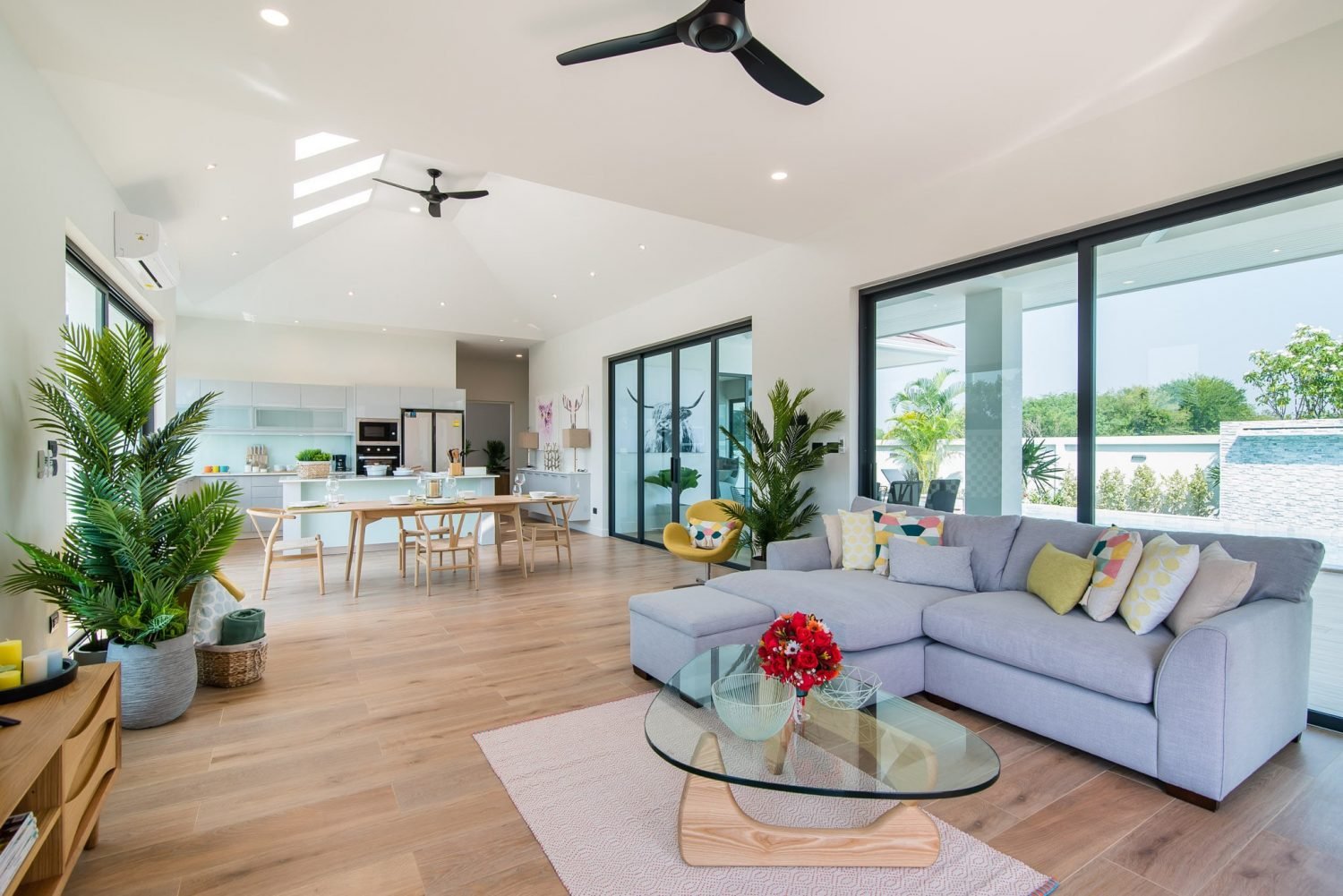 The spacious living room is first to welcome which can fit an L-shaped sofa. Beyond that is the dining room which can accommodate a 6-person dining table finely. Further in is the L-shaped kitchen with a massive island in the center, perfect for those who enjoy their time in the kitchen.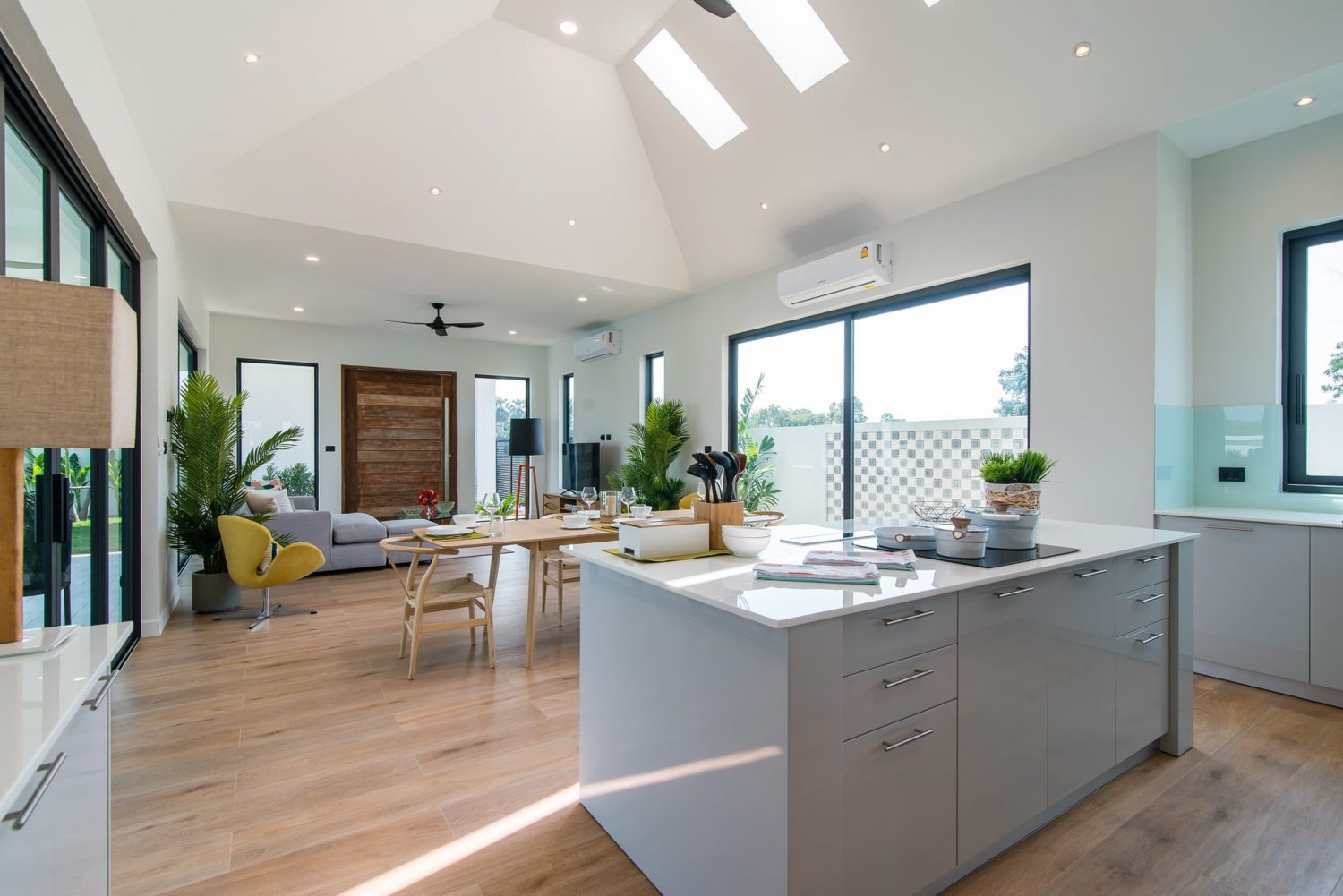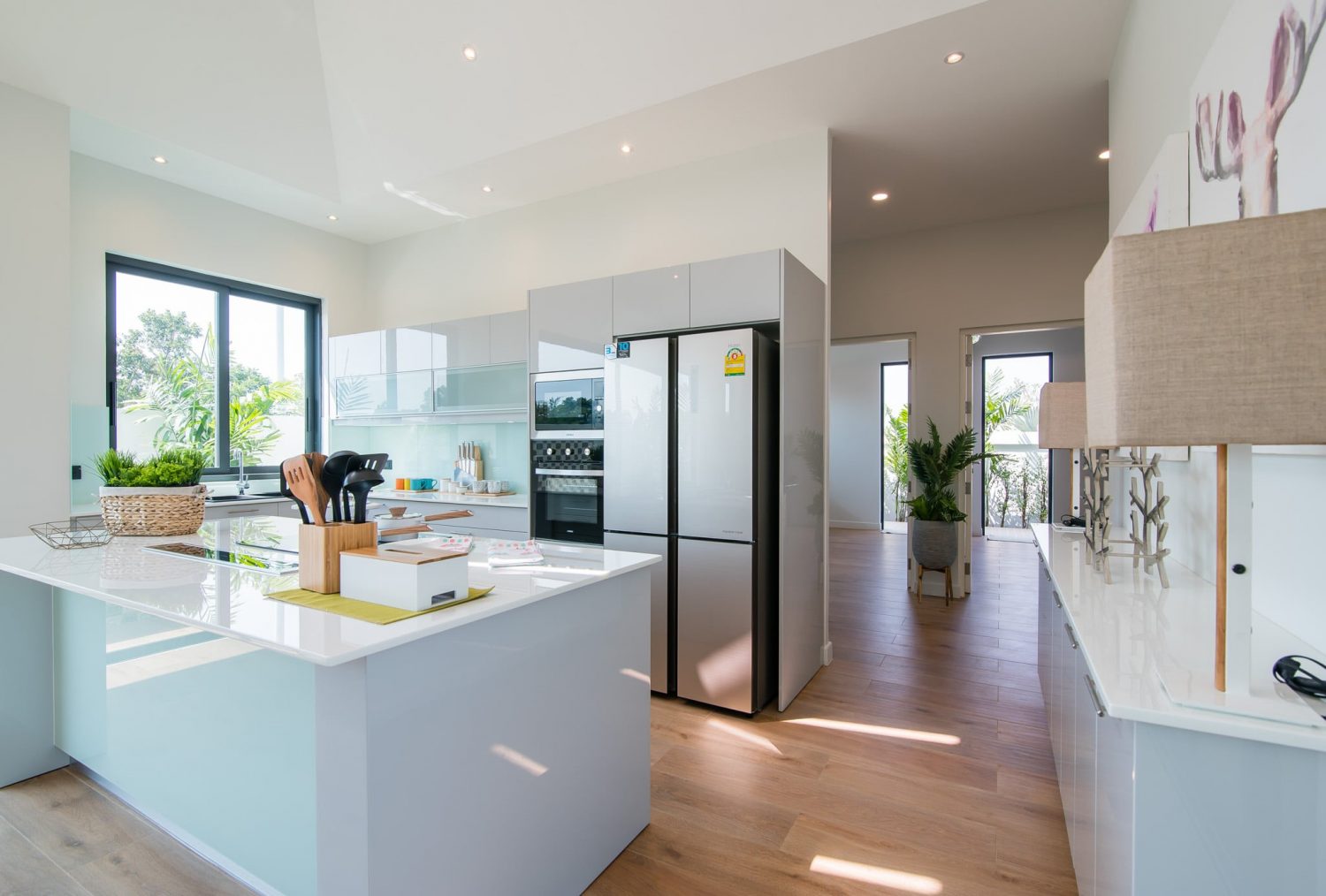 Behind the kitchen is the guest bathroom, which is a shared bathroom between the first and second bedrooms. Across the guest bathroom to the left is the laundry room which is at a similar scale, only smaller, than the guest bathroom; great for storage and other necessities.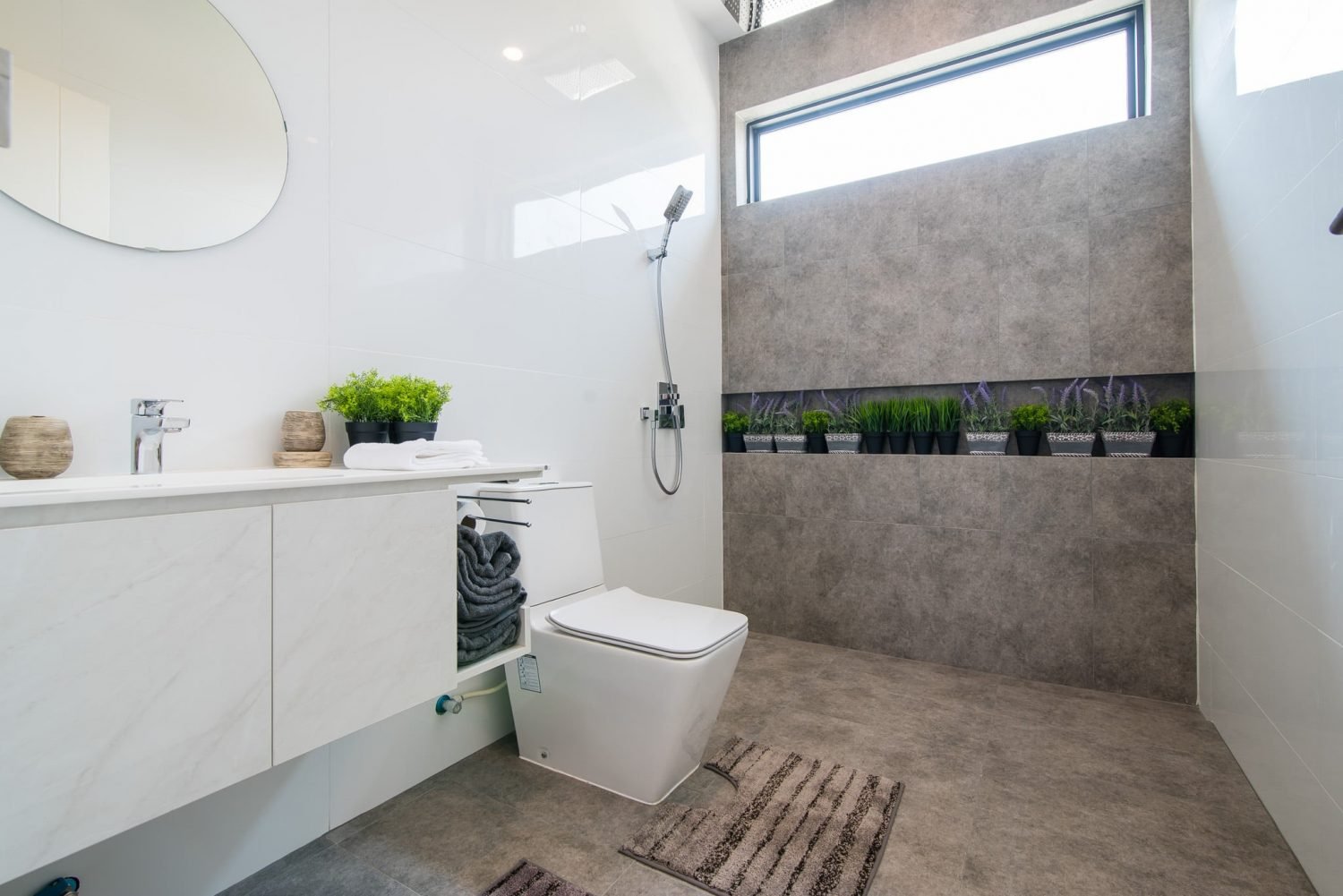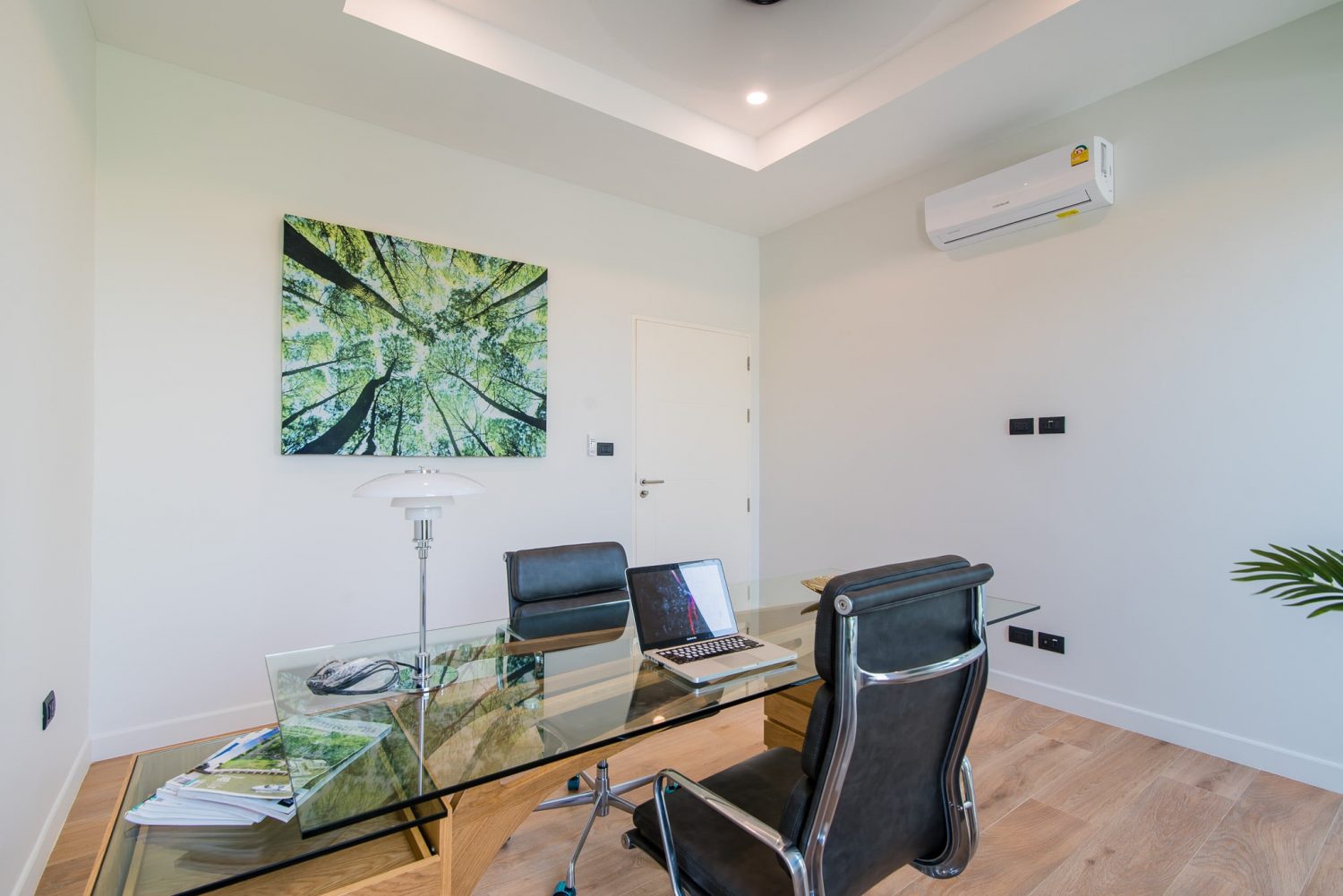 The first and second bedrooms mirror each other and can fit a queen-sized bed along with two side tables with further space for closets. 
The master bedroom, on the other hand, is massive. It is laid out for comfort. Inside, you can fit a king-sized bed perfectly, and sizable windows allow you to enjoy the view of the swimming pool and tropical garden.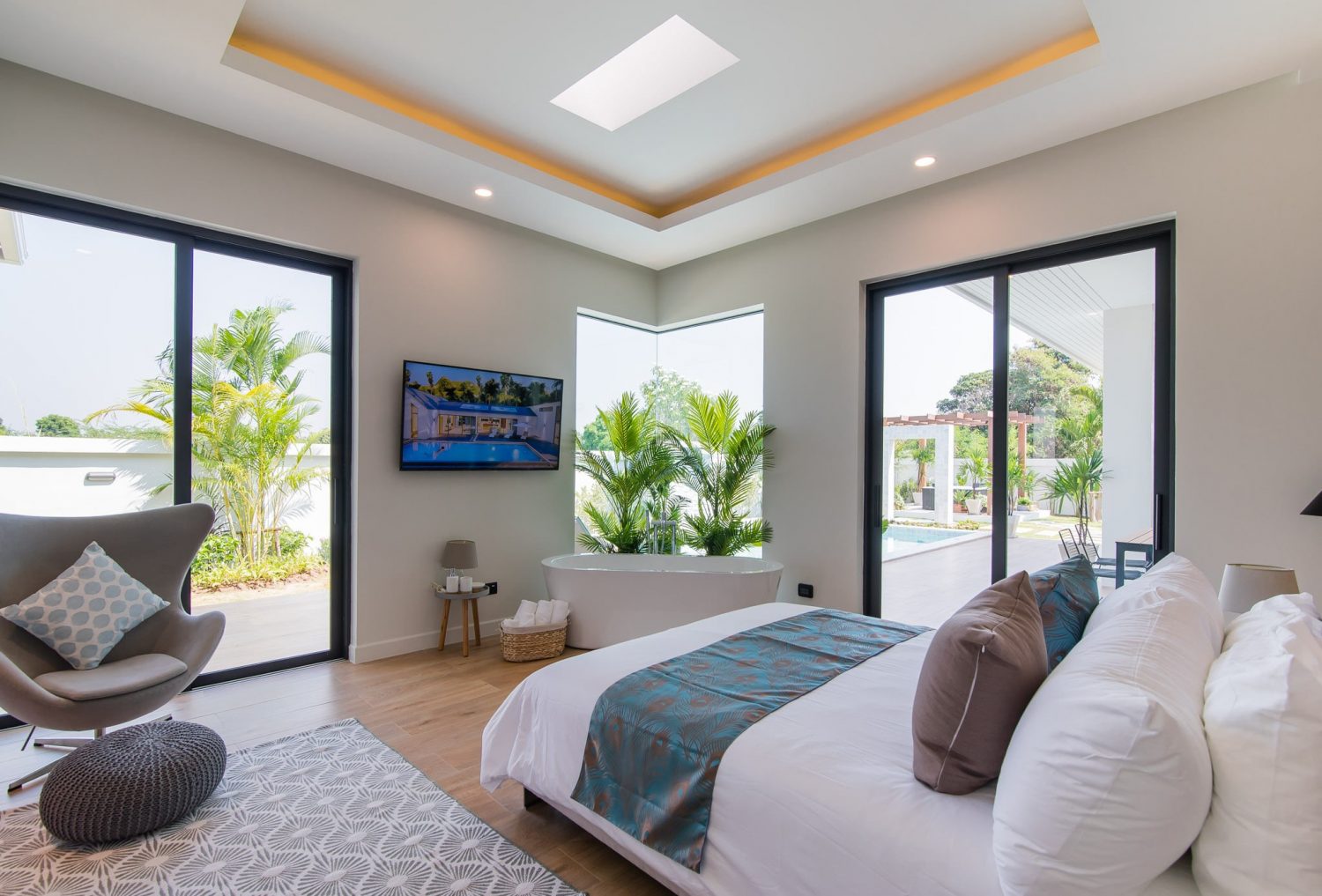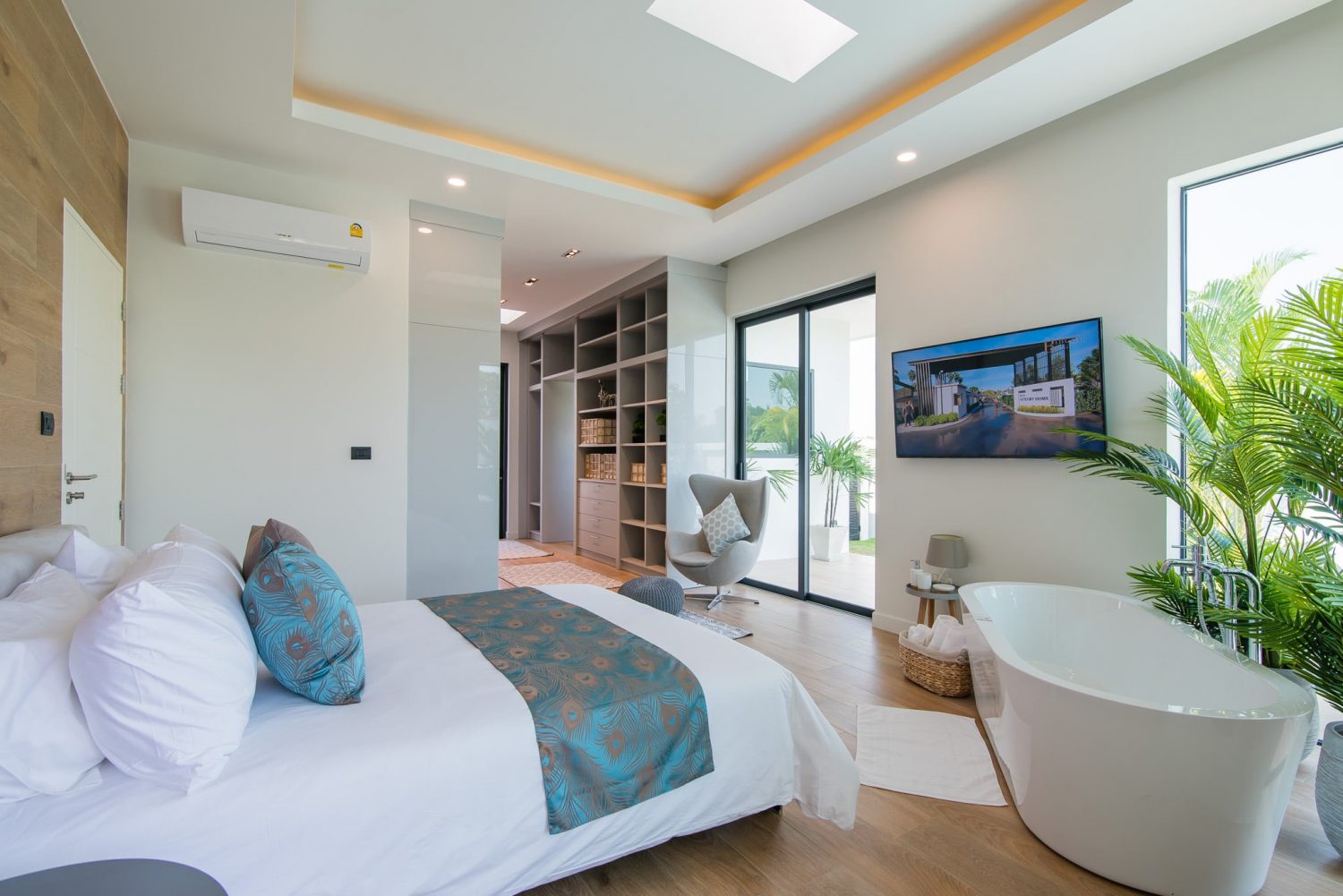 There are two sides of the walk-in closet that leads to the master bathroom.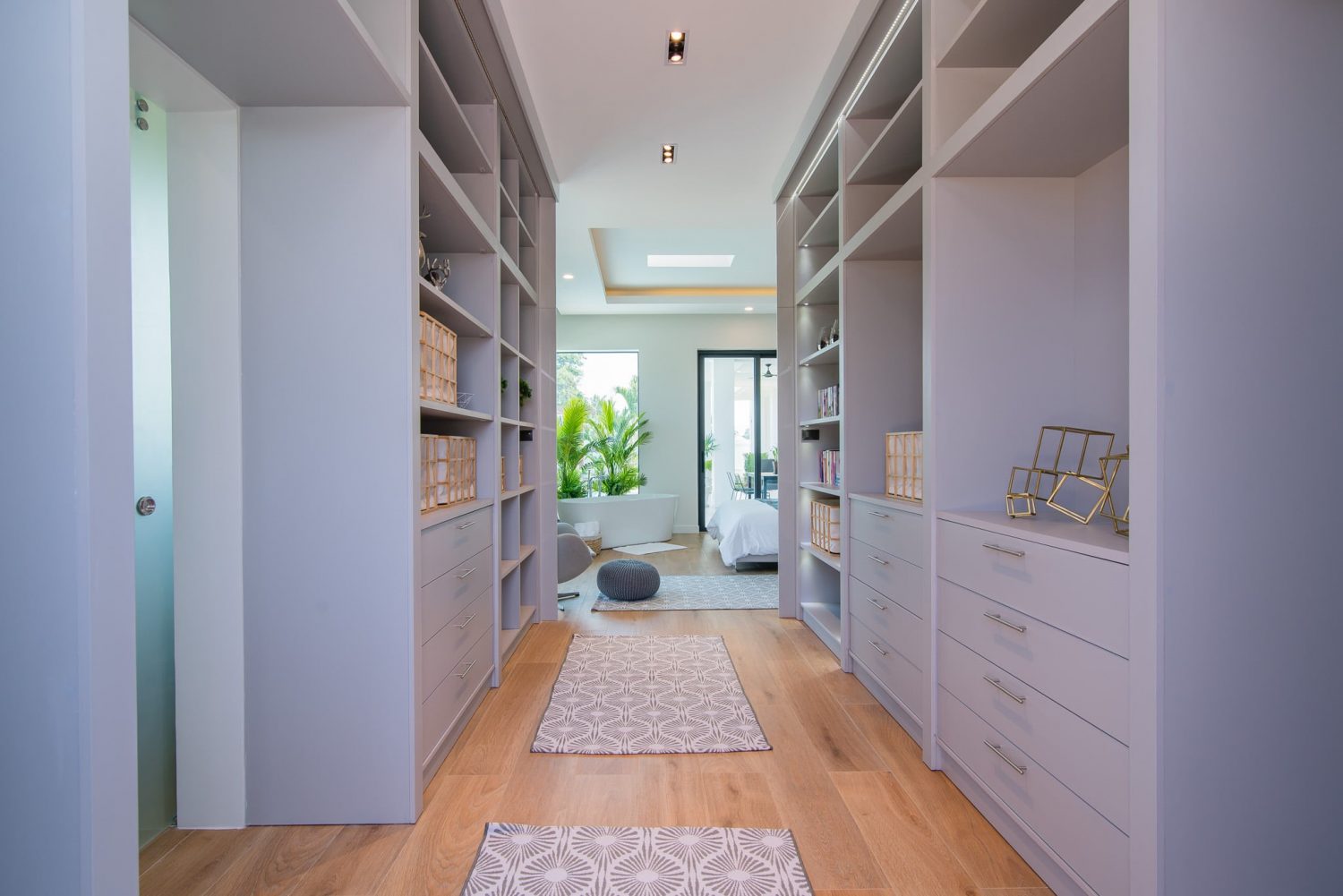 Residents will be provided with standard bathroom amenities as well as his-and-her sinks.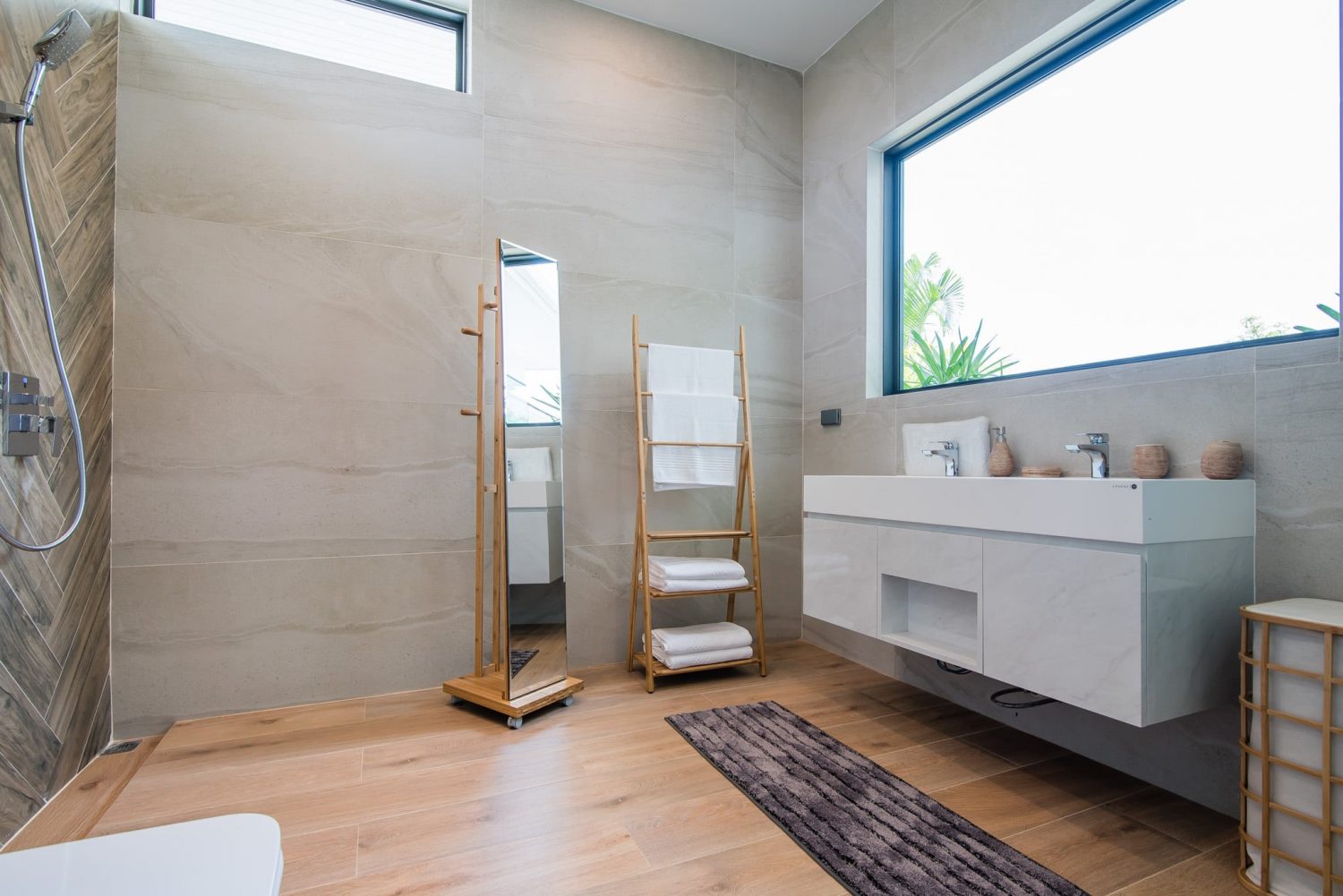 Surrounding the indoors are multiple terraces which can be found from the dining room on one end, as well as an expansive terrace that continues on from the living-dining rooms up and further towards the master bedroom. The total terrace space in the Villa Palm is at 70.8 sq.m. and can accommodate an outdoor dining table and sunbeds.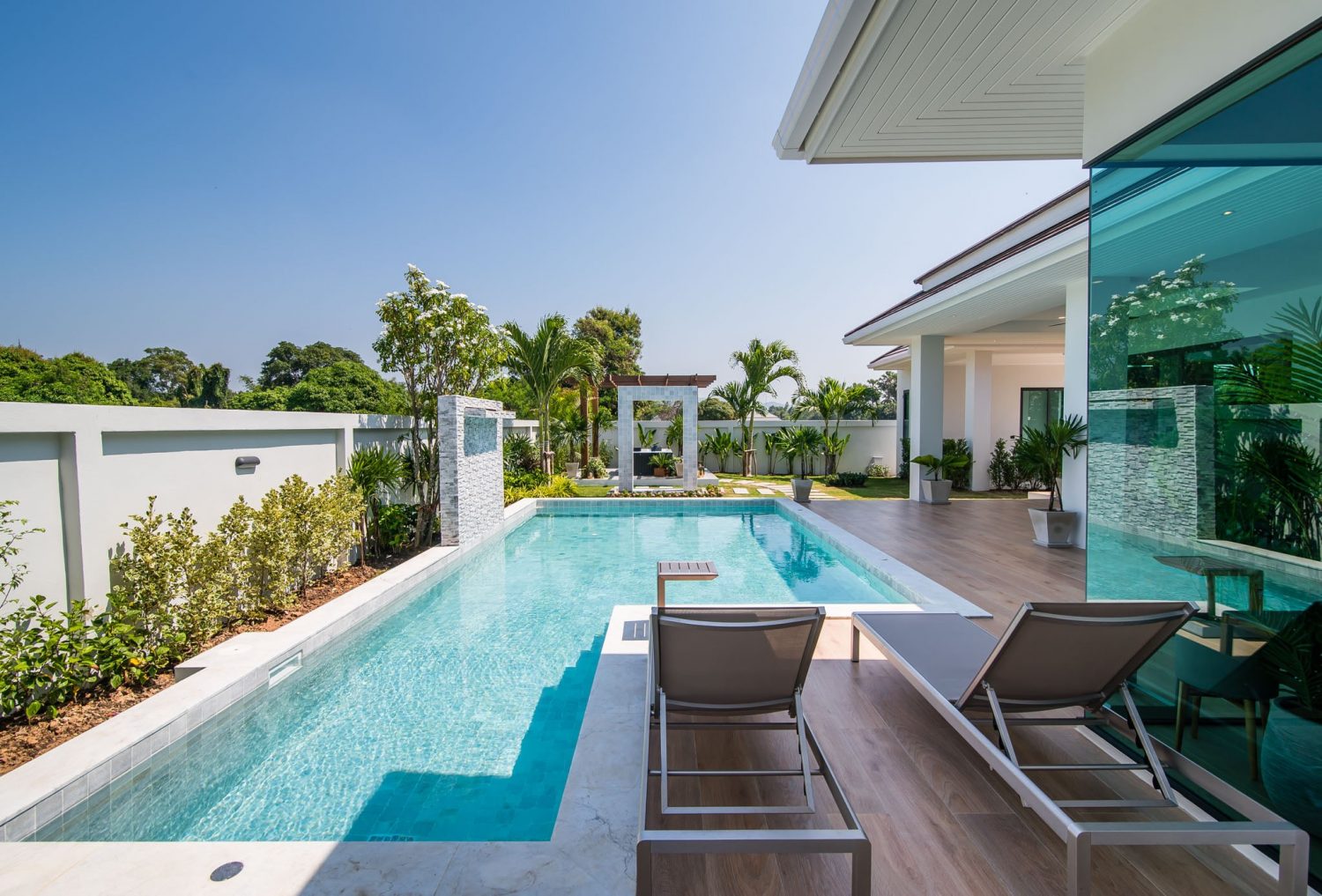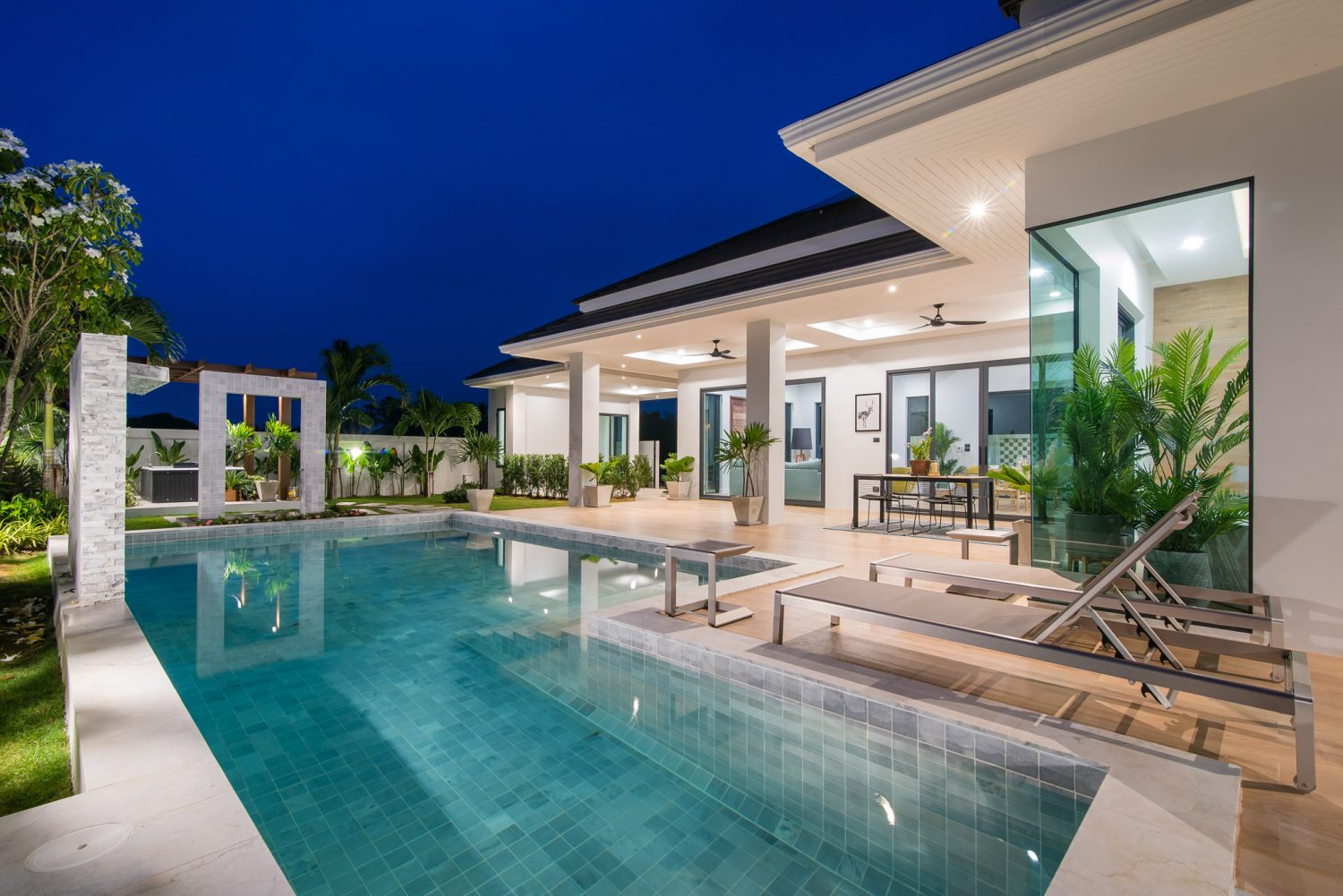 Spaced at 36.6 sq.m., the swimming pool has a slight L-shape to it; one corner more elongated than the other. Villa Palm also provides an outdoor shower.
Specifications
Bibury Homes provides the finest quality of materials and has attention to detail. The ceiling height for all villas is at 3 meters, and, as terraces surround most part of the villas, there are double-glazed windows for all exterior doors. Roofs have a steel structure with rust protection and aluminum foil insulation. Moreover, the living room and master bedroom have LED downlight systems. Kitchens have granite countertops, while throughout the indoor space is provided with wall-mounted inverter air conditioning units.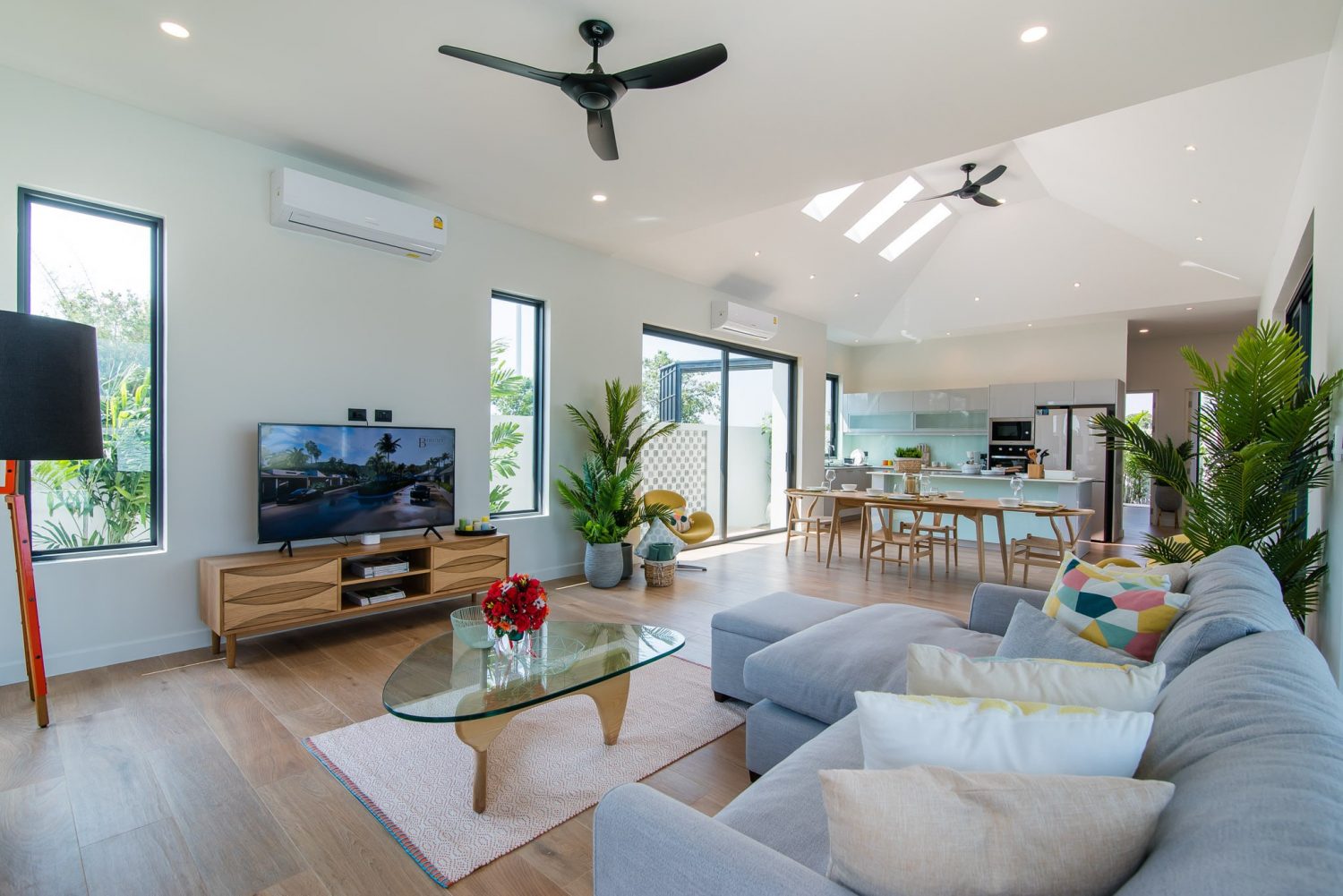 Summary
Bibury Homes has much to offer to its future residents, from four customizable villa types to utilizing the finest quality materials. Located only 10 minutes away from the city center, residents will find utmost tranquility living at Bibury Homes.
Find more information: https://bit.ly/3eVn7rM